yesterday i was at the gym taking a "no sweat" class. one hour, you do strength exercises to music. at the end, all your muscles hurt. they keep the no sweat routine the same for 6 weeks no matter what gym you go to (if it's called no sweat, it's the same class) and it's the same music for those 6 weeks. then they change it. new moves, new music.
well, i have been taking this class off and on for the last couple years and love what a great workout it is, especially when you go consistently. yesterday was a new routine though and it felt like it was ALL ARMS. i have very weak arms/shoulders. i can squat and lunge with the best of them but tricep dips, push ups, and shoulder presses? i'm dying with my piddly 5lb weights.
are you thinking, "where is this going? why isn't this on the life on points blog, rebecca?" well, that's because the music to this new-to-me routine yesterday was hilarious. who's bed have your boots been under?, mr. jones by AQUA (yes, aqua), a grease medley AND...mmm-bop by hanson. and you know, i couldn't help but hum along to hanson and giggle while i did my chest flies. but man, what a flashback.
THEN, on facebook tonight, what happens to appear on my sidebar ads? HANSON in concert at the commodore on september 25th! they're STILL performing? who is their audience? then i thought, that would be funny...maybe i'll go. clicked on the ad only to find out that tickets BEFORE taxes are $46.50! whaat?! who is paying that? i'm intrigued. obviously intrigued enough to share this lengthy non-story.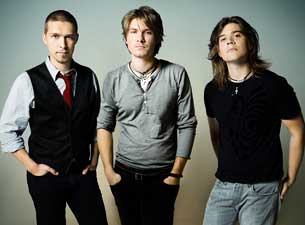 but i don't think i'll be going. unless
sharelle
wins me some tickets.