yesterday, during the hottest week of my life, tim, his buddy jared and i were driving to crescent beach when we discovered a snowy oasis on the side of the road. yes, snow. apparently there is a movie being filmed out here called "Deck the Halls" and they're filming it on some very hot days. the trees are sprayed with white stuff. there's white cottony batting everywhere. houses have their lawns covered in white plastic sheets. ahhh...the things that look like snow. we actually got out of the car and did the tourists with cameras thing.
the main scene
here's the batting posing as snow.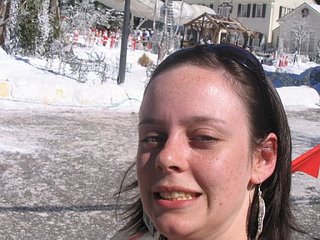 yeah, these self taken photos aren't always the most flattering...
tim and jared
can you see the "line" where it suddenly becomes winter? crazy!